Multipurpose Waste Baler – LS 150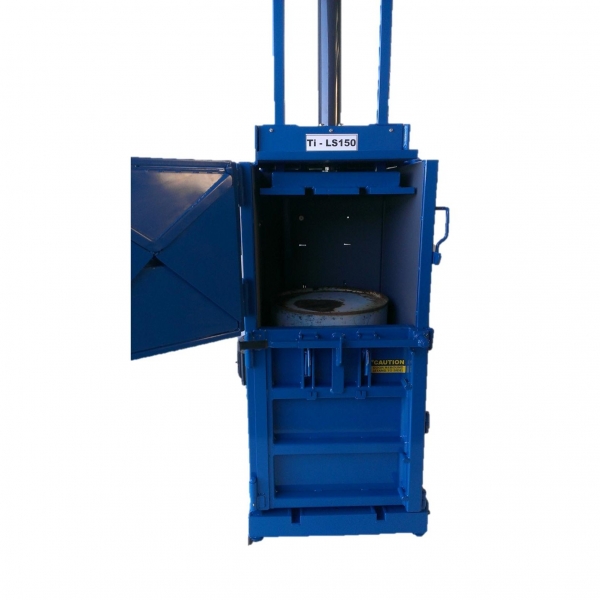 Multipurpose Waste Baler – LS 150
Multipurpose Waste Baler – The LS150 is the latest addition to our baler range.
LS150 is a multi- role recycling baler. LS150 has designed to bale a multitude of different waste materials without any baler modifications. The same baler configuration can be used to bale plastic, cardboard, PET bottles (lid on), steel drums and plastic drums. Tyres can be baled using specified strapping. An optional removable bin enables LS150 to crush waste material that can't be baled such as glass and small electrical appliances (following all required material safe handling practices). Bales can be tied off at any height. This facilitates effective use of the baler where one site has quantities of many waste streams.
This is the perfect multipurpose waste baler on the market today.
Product Uses







Cardboard
Paper
Shrink Wrap
PET
Cans
General Waste
Rags
Plastic Drums
Metal Drums
Tyres
Glass
Bottles
Bumper Bars
Features & Benifits
Multi-material baling
Chuted top door for can & bottle loading
Sump base for liquid retention
Australian designed & manufactured
Up to 5 year warranties (conditions apply)
Compliant with all National & International safety requirements
Category 3 safety system
Quality Assurance certified
24/7 nationwide sales & service
Rent / Lease / Buy
Customer satisfaction guarantee
Huge labour cost reduction
Easy to operate
Baler purchase includes initial twine supply, twine safety cutter, bale transport & removal trolley, Operation Manual & Service booklet
Tie options include twine with 240kg breaking strain, wire or metal strap
Optional false floor for smaller bales
Product Specifications
Unit Weight:
900kg
Plug Required:
20amp 4pin Clipsal compatible
Height(mm):
3100mm
Width(mm):
1000mm
Depth(mm):
1250mm
Compaction Force:
14000kg